Foundations are a must-have beauty product, and they can be used to give you an even skin tone, cover up blemishes, and even out your complexion. Applying foundation properly can make a huge difference in the finished look of your makeup. I'm here to help you get it right!
Whether you're a makeup beginner or a veteran, knowing how to apply foundation well is a critical part of getting your look together. Here's a quick rundown on all the tools, techniques, and tips you need so you can rock that perfect foundation each and every time.
Tools for Application
Being a pro at foundation application requires having a few key pieces of equipment in your makeup bag. First and foremost, you need brushes and sponges. My top pick is a brush with rounded bristles; this makes it easy to deposit pigment evenly. When it comes to sponges, we're talking about beauty blenders and spongy wedges. Both can be used damp or dry, depending on how natural of a finish you want. You don't have to invest in expensive products; just make sure whatever you choose is soft enough to move around the contours of your face for smooth coverage.
Preparation
I'm gonna let you in on a little secret: Prep is KEY when it comes to laying down a flawless foundation. Before you even think about what brush or sponge to grab, start with the basics – your skin. Make sure you have a clean slate before you start playin' Picasso with powder. Wash and moisturize your face, paying special attention to any problem areas. That's right, if you can definitely feel a zit coming in, give it a good scrub and some extra love.
This step is important if you're gonna make sure everything applies evenly and smoothly. If you rush through this part, you'll pay for it in the end. And trust me, nobody wants an uneven face!
Shade Selection: Finding the Perfect Match
Now we come to one of the most important parts of putting your face on: picking out your foundation shade. You've probably heard the phrase "if you don't match, you'll patch," and this couldn't be more true. If you want to look like you've never had a blemish – which is the goal of foundation – you need to make sure your skin color blends in seamlessly.
Getting the right shade isn't always easy. Many people tend to pick shades that are lighter than their skin tone, thinking it will make them look brighter and more youthful. While it can do that, it also tends to make you look washed out. It's best to stick with shades that closely match your natural complexion. To figure out your exact undertone, take a look at the veins on the inner part of your arm. Are they green or blue? If they're green, your undertones are cool; if they're blue, they're warm. Once you've got that figured out, it should be much simpler to find a foundation that fits your skin.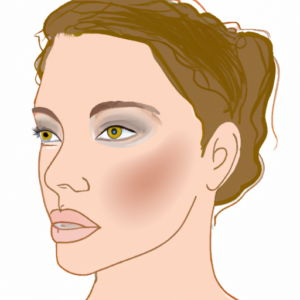 If you're not confident enough to pick up your foundation shade by yourself, there's no shame in asking for help. Beauty counter staffs have usually got years of experience in helping their customers get the right shade. They'll likely have different shades of makeup swatch cards that you can test out against your own skin tone. Try swatching several shades along your jawline, then step into natural light to check out how it looks.
Finding the perfect foundation shade requires some trial and error but once you know your undertone, it'll only take a few tries to get it right. Once you do, apply your foundation flawlessly, and you'll look like you just returned from a spa vacation.
Application Techniques: When it Comes to Foundation, Dotting and Blending are King
Foundation is key when it comes to achieving a flawless base, and when it comes to mastering the application you want to make sure you've got the techniques down pat. There's no doubt that dotting and blending are the main go-tos and can help create a beautiful finish.
When applying your foundation, use a brush or damp makeup sponge for the most even result. Start in the middle of your face, dotting foundation on your forehead, nose, cheeks, and chin before blending outwards. A brush is usually better for liquid foundation as it helps blend it into the skin more easily, while a damp sponge is great for cream and powder foundations since it absorbs some of the product so the look isn't cakey.
Using a light hand and blending methodically will ensure your coverage stays light but all-over. Dotting and blending can create a seamless finish that looks almost airbrushed – and trust me, it's worth taking time to get right! Keep blending until you don't see any streaks, and be sure to cover your neck and jawline too. And there you have it: your foundation has never looked better!
Choosing the Right Finish
When it comes down to it, deciding between a matte or dewy finish is personal preference. Most of us want a finish that looks natural, that doesn't dry out skin or leave shine, and doesn't require frequent touchups. So which should you go for?
Let's start with the basics: matte foundation gives you a natural, soft look, without a lot of shine. It gives your skin more of an even tone and hides away any imperfections. This makes it great for those with oily skin, as it helps absorb excess oils. On the other hand, dewy foundation creates a radiant glow, and adds extra hydration to your skin. It's also great for adding volume to your skin, giving you an airbrushed effect.
The key is to find the right balance that works best for you. If you want a more polished look, try mixing a few drops of primer into your foundation before applying. This will help lock in moisture and create a smooth base. If you have dry skin, opt for a liquid or cream foundation rather than a powder one. For combination skin, try pairing a matte foundation with a dewy setting spray. And if you just can't decide, go for a hybrid formula that combines both finishes!
At the end of the day, there's no right or wrong choice when it comes to choosing the right finish. Just experiment until you find which one works best for your complexion. And don't be afraid to liven things up a bit; you never know what look might turn out great!
Setting Your Makeup
After you've carefully applied your foundation and concealer, it's time to set the look with a few choice products. Before reaching for the powder puff, consider what kind of finish you want to sport. Do you want a matte look that won't budge or go for a dewy glow? It all depends on your specific needs and preferences.
If you're after something that doesn't move, powder is the way to go. Not only does it lock in your foundation, but it can also help reduce oiliness and add coverage, too. I'm all about Laura Mercier Translucent Loose Setting Powder, which has an ultra-fine texture and is magic at keeping makeup put. Just apply in thin layers and use a brush or tissue to blend everything down.
On the flip side, if you want a dewy touch up, why not try a setting spray? Containing nourishing ingredients like aloe vera, these elixirs can give you a natural-looking finish without compromising coverage. Plus, they can even help boost your complexion's radiance – and who wouldn't like that? For best results, spritz from a distance of about 8 inches (around 15-20 sprays) and allow the mist to settle before blinking.
So, no matter whether you're into "matte" or "dewy," having the right tools to set your makeup will ensure that you look flawless all day long. And when it comes to keeping your makeup in place, don't be afraid to get creative!
Concealer: The Key to Flawless Skin
Wouldn't it be great if our skin was perfect? Sadly, that's not the case for most of us. We all have blemishes and discoloration that need covering up in order to look our best. That's where concealer comes in. This magical product can help you hide just about any imperfection on your face. But, using it correctly is the key to looking flawless.
When it comes to color selection, you'll want to pick a shade that matches your skin tone as closely as possible. Don't go too light or too dark—you don't want it to be noticeable. When applying, remember to blend, blend, blend! Using a brush or sponge, dab the concealer on and then gently blend it into your skin. Put a little extra attention into problem areas like around the nose and chin.
Where you place concealer is also important. If you're trying to cover an acne scar, you'll want to apply it directly onto the spot. But if you're dealing with puffiness or dark circles under the eyes, you should avoid putting too much product there. Instead, dot along the outside edges of those problem areas and then blend down. This will give you a better result without being too obvious.
A quality concealer is worth investing in. It won't cake up or crack throughout the day, and will keep you looking fresh even after hours of wear. So before you head out, don't forget to cinch it in with some powder. And when you notice your makeup starting to fade, don't be afraid to reapply—it's sure to keep you picture perfect.
Highlighting and Contouring: Adding Dimension to Your Look
When it comes to putting the perfect finishing touches on your foundation, highlighting and contouring are key. Not only can they take your look to the next level, but when done properly, they can give you an extra boost of confidence. And trust me, we all can use that!
So how do you go about highlighting and contouring? First of all, you'll want to pick up some quality products—the good stuff goes a long way! Then, when you apply them, it's all about placement. Typically, you'll put the lighter shade of product on areas that you want to bring forward, like your cheekbones and nose. The darker color should be used to recede certain features, like your temples and jawline. If that sounds daunting, don't worry! Just do a bit of practice and play around with it until you get the right blend.
You definitely don't have to highlight and contour every time you wear foundation, but you'll be glad you did when you're looking in the mirror, glowing with pride! So give it a shot, and never be afraid to experiment and try new things—you might just surprise yourself.
Final Tips on Applying Foundation
Before settling in with your carefully picked selection of foundation, I've got some last-minute tips and advice for ya. Investing in quality products is a no-brainer – why put something low-grade on your masterpiece face? That said, while you don't want to skimp out on the good stuff, you also don't need to overdose on every single one. Try finding one or two that you love and stick with 'em. Know when to reapply, too – if you're spending more time in the mirror than at the party, it's probably time for a refresher. And when it comes to setting your makeup, don't overdo it! Many of us think the more powder on means less shine coming through, but that ain't necessarily true. You deserve the best finish, so use just the right amount. Now go forth and slay!
FAQs About Applying for Foundation Grants
How do you apply foundation perfectly?
Well, I think the key to applying foundation flawlessly is all in the preparation. Before you even reach for the makeup bottle, take the time to make sure your skin is prepped and ready. Cleanse and moisturize your skin, and make sure you've applied a primer to ensure your foundation will last all day.
Once you've done the necessary prep work, the next step is to find the right foundation. This is where trial and error comes in – don't be afraid to test out different brands and shades until you find the one that works for your skin.
Once you've chosen your foundation, it's time to apply it. I recommend using a makeup sponge or brush for the best coverage. Start by dotting the foundation onto your T-Zone area (forehead, nose, and chin) and then blend it outwards. Be sure to use a light hand and build up coverage until you're happy with the result.
Finally, after you've applied your foundation, give your skin a little dusting of translucent powder to set the look. This will help to take any shine off, and prevent your makeup from smudging.
Follow these tips, and you'll be on your way to achieving a flawless foundation application every time!
How do you apply flawlessly foundation for beginners?
Well, let me tell ya, you won't find your perfect foundation application recipe overnight! Foundation can be tricky and it takes a little bit of practice. When it comes to flawless foundation for beginners, I suggest starting with a primer. Primers help your foundation look more natural and help it last longer, so it's a great base for your whole look. Once you've applied your primer, use a damp sponge to apply your foundation. Damp sponges can help you get a more even application and prevent the foundation from becoming cakey. Finally, make sure to blend, blend, blend! Buff your foundation in circular motions and make sure to blend it down your neck and around your ears to avoid that dreaded line of demarcation. With these tips, you can be sure to have a perfectly applied foundation in no time!
What are the steps for flawless makeup?
My number one tip for achieving a flawless foundation application is to ensure you have a well-prepped complexion. This means cleansing and moisturizing beforehand, as well as exfoliating to get rid of any dirt and buildup. You can even go one step further and apply a primer or face mask to make sure your skin is in top shape!
When it comes to applying foundation, you'll want to make sure you have the right tools and products. I suggest using a brush or beauty sponge to blend out your foundation for a seamless coverage. A damp beauty sponge can help with a more natural-looking finish, while a brush can give you a more polished look. You should also invest in a good quality foundation that matches your skin tone and finish.
When it's time to apply, use short, dabbing motions rather than sweeping motions. This will help the foundation to blend out more easily and provide more even coverage. Also, make sure to blend, blend, blend! Get into all the hard-to-reach areas like around your nose, eyes, and mouth.
To get an extra flawless look, consider using a concealer and setting powder. Concealer can be used to cover up any blemishes or areas where your foundation did not blend out perfectly. Setting powder can help lock your foundation in place, and can add a matte, long lasting finish.
By following these tips, you can easily achieve a flawless foundation application!