Mascara is a staple of women everywhere. It helps give that extra oomph to our eyes, evening out the look and enhancing their brightness. But did you know that you can use mascara on your bottom lashes too? Doing so provides volume and definition to them which can make your eyes stand out even further! In this blog, I'm gonna give you the lowdown on what supplies you need and how to apply mascara to your bottom lashes for maximum impact.
Necessary Supplies
Before you start applying mascara to your bottom lashes, it's important to have the right supplies. You're probably already familiar with the foremost: mascara! Nail that first one and the rest will follow!
A hand mirror is essential for achieving the look you desire. While you can theoretically use a regular wall or vanity mirror, the hand mirror allows you to get close up on those bottom lashes like an artist. Plus, its portability makes it easier to apply your mascara on the go.
Last but not least, you'll want some Q-tips. These gentle swabs are a must when it comes to even application of mascara. They also come in handy if you accidentally apply too much; they help wipe away any excess product and give you space to start over.
Step-by-Step Guide
Livening up your look is as easy as applying mascara to both the top and bottom lashes. Now, you may be intimidated by this thought of painting your bottom lashes. Fear not, because with a few simple steps, you can make it happen with confidence.
The first step is to curl the bottom lashes. Use an eyelash curler specifically made for lower lashes. Position the curler right at the base of your lower lashes, and hold for 15 seconds before releasing. This will help open up the eye area and give your lower lashes lift.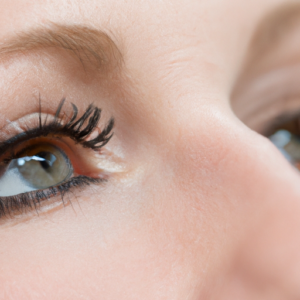 Next, cover both the top and bottom lashes with a single layer of mascara. Wipe away any excess product from the top lashes with a tissue or Q-tip before moving onto the bottom ones. This will prevent smears that can occur when double layering mascara.
Now you're ready to apply a second layer of mascara to the bottom lash line. Start by swiping your brush from side to side rather than from root to tip. This will prevent clumping and leave your bottom lashes evenly coated.
When finished, you may notice some small clumps. Gently remove these with a Q-tip or spoolie brush. Then lightly smudge the bottom lashes to soften the edges, creating a sultry, slightly blurry look.
Conclusion
So now that you've mastered the art of applying mascara to your bottom lashes, let's recap. First, you'll want to curl them with an eyelash curler before brushing on a layer of mascara to both top and bottom lashes. Make sure to wipe away any excess product from the top lashes before adding a second layer of mascara to the bottom. Lastly, touch up any smudges or clumps with a Q-tip.
For all you bold beauties out there, here are a few extra tips for achieving maximum drama. For added drama, try applying two or three coats of mascara on the bottom lashes, choosing waterproof formulas for ultimate wear-time, and even adding a pop of glittery eyeshadow in the corner of your eye.
With these simple steps, you're sure to have beautiful, voluminous bottom lashes that make all your friends jealous. So don't forget to bat those bottom lashes, girl…you're gonna rock it!
Mascara Application FAQ
Should you put mascara on your bottom lashes?
Sure, you can put mascara on your bottom lashes for a bold look—it just takes a little finesse.
First, make sure you have a mascara specifically designed for bottom lashes. These usually have a smaller brush with a curved tip that helps you get to the roots without making a mess. Some even come with a special comb attachment for this purpose.
Now it's time to start applying the mascara. Gently wiggle the wand at the base of your lower lashes and pull the wand up in a zig-zag motion. Avoid applying too much pressure, as this could cause your bottom lashes to clump together. Just keep going until you achieve your desired boldness.
Be sure to also use a gentle hand when removing the excess mascara from your lower lashes. A good way to do this is to get a clean cotton swab and, starting at the root, gently whisk away any clumps.
Lastly, if you want a more intense, dramatic look, you can always apply a few light layers of black eyeshadow underneath your lashes to create extra definition. Just remember to use an eyeshadow brush with soft bristles to avoid tugging at your delicate lower lashes.
How can I make my mascara look bold?
I'm here to answer the question of how to get a bold mascara look – and no look is complete without defined bottom lashes!
The key to achieving a bold look for your bottom lashes is to start with lots of product. Begin by using a volumizing mascara for your bottom lashes, this way you'll get more pigmentation and thickness. Make sure you apply the product from the base of the lash to the tip, wiggling the wand as you go to ensure each lash is coated. If a few lashes still seem sparse, apply another coat of mascara.
Then, to really amp up the drama, reach for some black eyeliner. Using a gel or liquid liner, draw a thin line along the length of your lower lash line, following the natural curve of your eyes. This will really help to create a bold and defined look for your bottom lashes.
Finally, to ensure your look stays put, use a setting spray. This will help the mascara and liner stay in place all day while keeping your lashes looking full and defined.
So there you have it – now you know how to apply mascara to bottom lashes for a bold look! With this advice, your bold lash look will stay in place, allowing you to take your beauty looks to the next level.
Does putting mascara on your bottom lashes make your eyes look bigger?
Yes, mascara on your bottom lashes can give your eyes a bolder look and make them appear larger. To achieve the best look, start by curling your bottom lashes and then very lightly, use a short-bristled wand to coat your lower lashes with the mascara. Be sure to use short, even strokes, and to curl each lash on the underside of the eye. Another tip is to use a lighter color of mascara to make the bottom lashes look more natural. Lastly, look up and blink a few times to make sure all of your lashes are evenly coated.
If you want to take your bold look to the next level, you can add an extra coat of mascara to the lower lashes. Just be sure to wait for the first coat to dry before applying the second coat. You can also use a waterproof mascara for a bolder, longer-lasting look. Just keep in mind that waterproof mascaras can be a bit hard to remove, so make sure you have a good eye makeup remover handy.